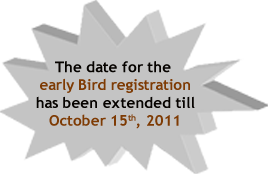 Dear Friends,
Welcome to Delhi !
It is indeed our pleasure to invite you to the 5th Annual National Conference of Society for Wound Care & Research -Wound Care Con 2011, to be held from 11 – 13th November, 2011 at PGIMER & Dr.RML Hospital, New Delhi.
Wounds are there since the beginning of life on earth and have remained an enigma since then. Man realized the challenges of a non healing wound only when he faced a wound infected, fungated or remained raw in spite of conventional wisdom and scientific knowledge.
Recent advances in prevention and cure of bed sores like low air loss bed, optimum humidification, topical dressings preventing evaporative loss and negative pressure dressing however do provide some insight in the process of wound healing. At other end, Plethora of pharmacological agents which affect wound healing, different growth factors, antimicrobial agents, oxygen delivery techniques, hyperbaric oxygen and the most recent but less understood stem cell therapy has generated great interest in understanding and supporting wound healing. However wound management though still remains an area of great confusion and debate.
In keeping with the theme of the conference "Wound Management –A Holistic Approach "we will discuss and update all different aspects of wound healing with special emphasis on "STEM CELL and CELL MODULATION". First day of conference is dedicated to practical aspect –a workshop to show different procedures for wound management including stem cell harvesting and transfer techniques.. Subsequently on the next two days a comprehensive scientific program has been designed covering all aspects of Wound Care.
We promise you an unforgettable experience of brainstorming sessions complimented with the finest cultural and culinary delights of Delhi.
Looking forward to see you in Delhi during the conference.
Yours sincerely
Dr. S. P. Bajaj


President - SWCR 2011

Dr. Lalit Makhija


Chairman - Woundcare Con 2011